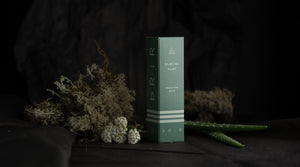 Glacial Clay Purifying Mask
Sale price Price 5.900 kr Regular price
Tax included.
Glacial Clay Purifying Mask is made of mineral-rich Glacial Clay and Red Willow Bark. Mineral illite, Kaolin, Red Willow Bark, Aloe, and Cucumber Water, cleanses and detoxifies the skin. Minimizes the appearance of pores and leaves the skin smooth, firm, and revitalized.
Key Ingredients 
Glacial Clay - Rich in minerals and has detoxifying properties and helps to minimize scars and dark spots

Red Willow Bark - Contains antimicrobial and anti-inflammatory properties
Cirus Essential Oil - Contains antiseptic qualities
Aloe Vera - Heals, soothes, and moisturizes skin
Cucumber Water - Hydrates, revitalizes skin
ORGANIC - NATURAL - PLANT BASES - CRUELTY-FREE - VEGAN

75 ml | 2.5 fl. oz tube.