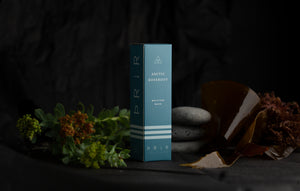 Arctic Roseroot Moisturizing Mask
Sale price Price 5.900 kr Regular price
Tax included.
Arctic Roseroot Moisturizing Mask is a hydrating mask combines the properties of Arctic Roseroot —the ginseng of the north—and Rosavins, to achieve maximum moisturization of the skin. Arctic Roseroot stimulates the natural production of collagen, enhances skin's elasticity, and reduces wrinkles. Enriched with antioxidants, Arctic Roseroot is also known for anti-aging.
The natural plant-based glycerin in the mask also provides the skin extra moisture. 
Key Ingredients
Arctic Roseroot - Stimulates the natural production of collagen in skin

Rosavins - Anti-stress, moisture retention, and protection from environmental stressors such as UV rays
Artic mussel extract - Highly efficient for wrinkle reduction and hydration of the skin
ORGANIC - NATURAL - PLANT BASES - CRUELTY-FREE

PRODUCT INFO:

75 ml | 2.5 fl. oz tube.